Invown Makes Real Estate Fundraising & Investing Seamless
Invown is a marketplace that enables real estate sponsors, owners and syndicators to market their syndications and real estate investment offerings directly to the investing public. Everyday investors, including non-accredited limited partner investors, gain access to real estate backed investment opportunities.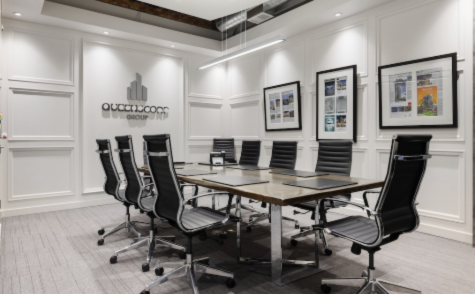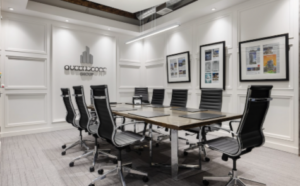 Invown for Real Estate Sponsors
With Invown, real estate sponsors and syndicators can legally raise funds from a wider pool of investors, including non-accredited investors, thereby maximizing their marketing impact for maximum success.
Invown for Real Estate Investors
Invown opens the door to real estate investment for all investors. As a registered Funding Portal, we offer a platform for real estate sponsors to legally raise capital from all classes of investors, breaking down barriers for traditional syndications.
Invown for Owners, Sponsors, Operators & Syndicators
Invown, a registered Funding Portal, specializing in real estate backed investing that enables you to raise financing from everyday members of the investing public.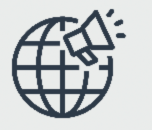 Everyone can invest maximizing marketing efforts
Expand your investor market by allowing non-accredited investors to invest in your deal. You set the minimum investment amount and, anyone can invest.

All legal documents supplied – saving you thousands
Invown provides tailored legal documents for business formation and investment needs, including LLC agreements, Investment Agreements, and Form C.

Cutting edge tech – seamless investor and sponsor experience
Invown's tech platform offers a simple, delightful experience for sponsors and investors, including features like investor dashboard and sponsor analytics.
Invown for Investors
Everyday investors gain exposure to real estate by investing as little as $500.

Exposure to Real Estate Markets
Only $500 minimum to invest. No deposit and no maintenance.
Investors are passive and therefore not directly responsible for maintenance, property management, or tenants.
Companies listing on Invown are from all around the country. Pick the markets that suit your expectations best!
Build a diverse and tailored investment portfolio with exposure to residential and commercial real estate values.
Browse & filter offerings from around the country
When you log into Invown you'll be greeted by real estate backed investment opportunities from around the country.
Residential or Commercial Companies
Find an investment that meets your specific interests.
Owners offer short and long term investment opportunities.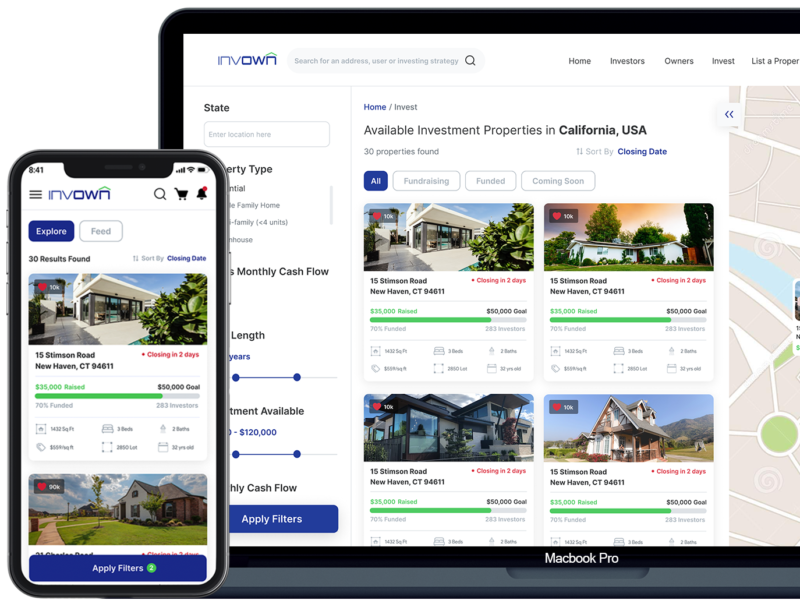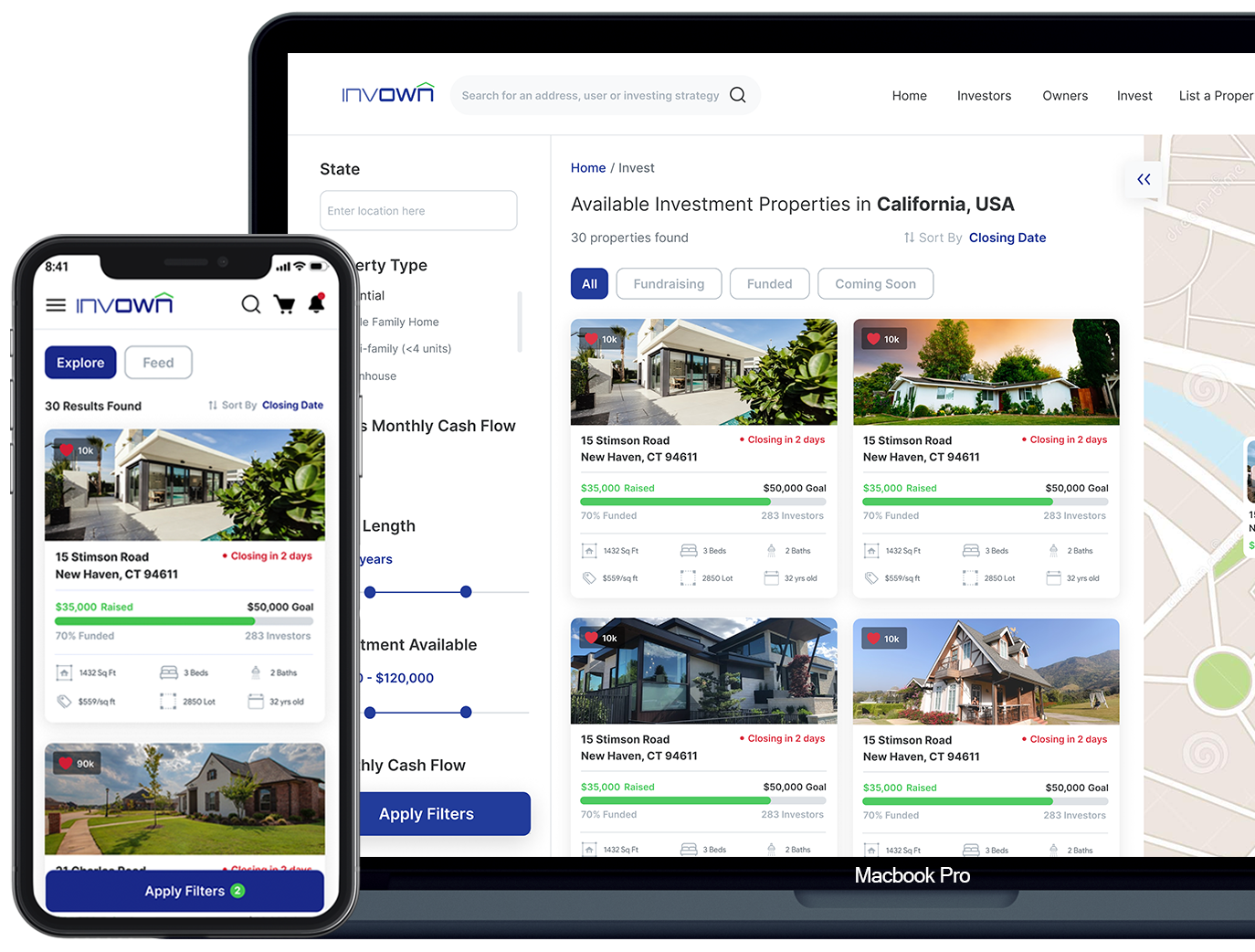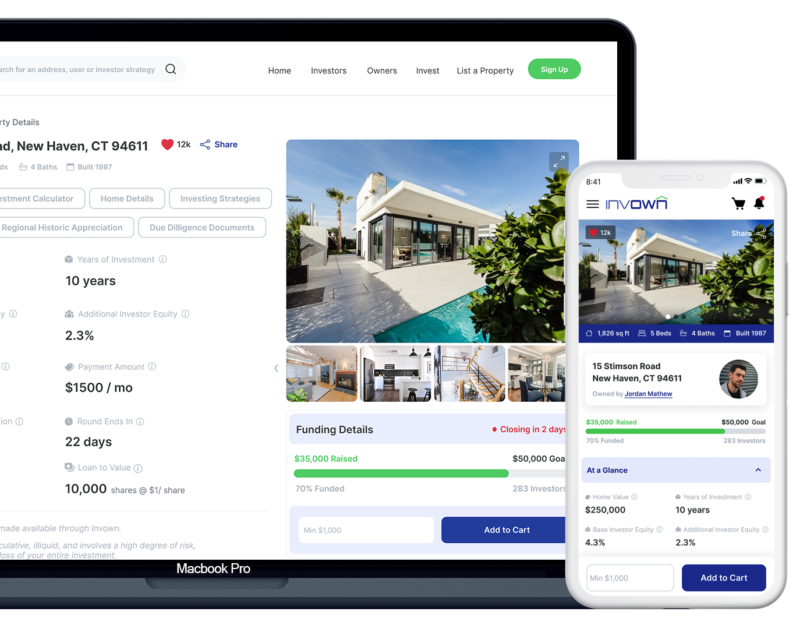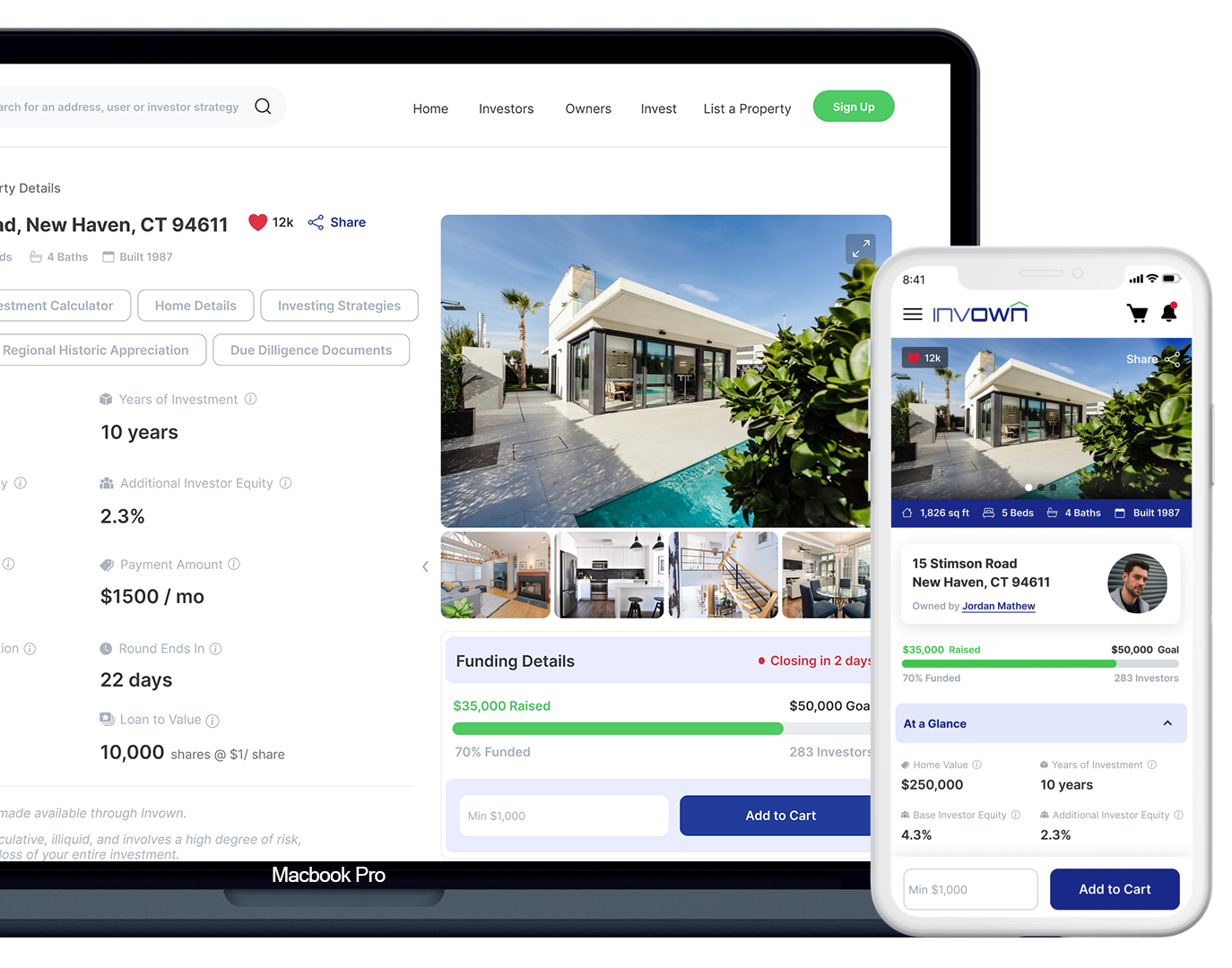 Dive into each investment, share, or add to your cart!
Compare each investment opportunity and dig deep into the offering, its terms and potential.
Detailed Investment Information
Investment listings provide necessary due diligence information and the ability to ask the issuer questions, so that investors can make informed investment decisions.
Add your investment to cart!
Browse diverse investment opportunities and add them to your cart to check out in minutes.
What am I investing in?
When you invest through Invown, you're investing in real estate companies that own properties, through Regulation Crowdfunding.
Understand The Benefits
By passively investing in a company that owns real estate you gain exposure to real estate value and potential cashflow, without the headaches of direct ownership. Learn more
The Risks
Investments offered on Invown are illiquid and, like all privately bought securities, contain inherent risk. Investors in this type of security can lose the entire value of their investment. In addition, investments on Invown are highly speculative. Never invest more than you can afford.
Return on investment
Invown cannot predict any potential return on investment. You need to review each property upon which the security or interest is based and decide if the potential risk/reward is worth the investment.